14 -18 July this summer, I was in Las Vegas. This was no vacation: I was there to attend Microsoft Inspire, the annual conference for the Microsoft partnership ecosystem. It is a huge event, now combining both Microsoft Inspire and Microsoft Ready conferences with no less than 30,000 attendees from all over the world. In addition to the 170 participating companies making up the French delegation, I was fortunate to meet Pierre-Antoine Tricen the director of our
based in Miami.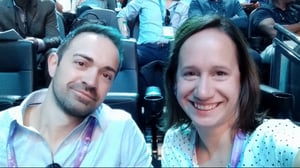 Our mission during these four days was to gain understanding of the Microsoft galaxy and how GEOCONCEPT might align itself even more closely with this giant and its ecosystem with the aim of bringing even more value to our customers.
GEOCONCEPT in the ecosystem of Microsoft partners
As an independent software vendor ISV GeoConcept is one of Microsoft's Co-Sell Ready partners. This is a category of partners Microsoft has been focussing on for several years now, but which today only represents about 15% of the whole of the partnership community, as reflected by the breakdown of contributors to the Inspire 2019 event.
What we need to understand is that, for historical reasons, Microsoft has always worked in proximity with IT managers, but at one remove from business users generally speaking. Independent software publishers like GEOCONCEPT with its service management and
have a lot to offer Microsoft when it comes to their gaining understanding for these business lines and designing offerings that facilitate, accelerate and secure deployments for end customers. For us, this association allows us to:
increase our visibility, notably by being present in the Microsoft marketplace;

develop partnerships with other ecosystem partners to create new solutions or reach new customer profiles;

offer customers cloud solutions that are ultra-available and secure thanks to Microsoft Azure.
This is a win-win partnership, and even a «win-win-win» solution if we include our customers in the loop! And that's why we are speeding up developments in this area.
A few key messages and trends
Worry not, I'm not going to give you a blow-by-blow account of every detail of every event, but there are nevertheless a few points I have singled out as interesting and important as highlights in the main trends unveiled or confirmed by Microsoft during this conference.
Priority for Cloud and security – Migration to the cloud is an absolute priority for Microsoft: they are doing everything possible to speed up migration of the installed base over to Azure and, with the new Azure Migration programme, offer companies and publishers end-to-end support to migrate their business applications and bespoke solutions over to Azure.
On the security angle, Microsoft is gearing up its investment in programmes for cloud users so they benefit from round-the-clock protection, with conformity in relation to local regulations on data protection guaranteed.
Stronger collaboration with Microsoft Teams – The Microsoft Teams collaboration combines Skype and Dropbox with all Office 365 applications. There are plenty of new tools and functionalities (cross-channel publication, priority notifications, a moderating system, etc). The best is yet to come as it was announced that artificial intelligence services in the various desktop modules are soon to be integrated.
Dynamics 365: an even wider remit! Dynamics 365 is now offering business modules for all functions such as sales, finance, operations, support – and integration facilities between the CRM and third party solutions such as those offered by GEOCONCEPT. Basic functionalities built around AI include sector solutions, for example for the automobile industry, the financial sector, and even implementations for use by NGOs were presented.
4 days at 200 km/h
Even though I lived for quite some time in the United States, I have never visited Las Vegas before. What can I tell you? Whether you like it or not, it is stupefying, breath-taking, extravagant! I suppose that's what one would expect. But the element of surprise is there nonetheless: the flamboyant profusion of gaudy neon signs cast their weird glow over the city, and yes! there really are slot machines and gaming tables absolutely everywhere… As for the Venetian Resort where we stayed, I would say it is de trop and over the top in terms of décor, and is even more grandiose in a way than the largest of the Disney parks with its St Marc Square, Bridge of Sighs, artificial waterways and canals where you can ride in a gondola under an artificial sky. The Americans balk at nothing, and they certinaly don't do things by halves! The keynote speech given by Satya Nadella (Microsoft's CEO) with brilliantly executed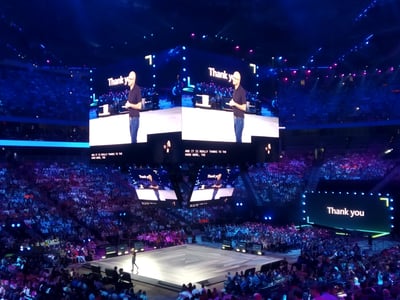 live demos, in a stadium that was packed out and bursting with enthusiasm there on 17 July were testimony to that. But as I said before, we weren't there to do the tourist trail, we had a packed working schedule with wall-to-wall appointments to meet our contacts in parallel with workshops, demos, keynotes and intense networking moments, hurtling from one end of the gigantic congress centre to the other, and then called back to order just in time by alerts on the dedicated application for the event. This event management system was a work of art in itself, and thanks to this plus the flawless organisation and attentive staff - smiling and helpful at all times - we never missed a trick.
What impressed me most….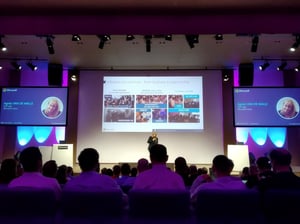 Over and above the impeccable organisation of this event, what impressed me greatly were the live demos and presentations sharing first-hand experiences of running real-life business implementations. I am thinking in particular of one that presented a «virtual» factory for the manufacture of Dove soap (Unilever): the whole of the quality assurance cycle had been dematerialised thanks to the Microsoft Platform. This is a good example of the way we could see at first-hand how digital binoculars could be used, cleverly demonstrating the wonders of machine learning at the same time. Like other members of the audience I was of course totally glued to the Holoportation experience deployed by the Azure Speech translation service. HoloLens 2 spectacles featured in the Keynote talk given by the VP from Azure: she was literally cloned before our very eyes, so that even though she was talking in English, the spectators watched her life-size hologram, and astonishingly heard her speaking in Japanese, her speech transformed for a delivery that perfectly reproduced her own personal voice modulations!
After four very intense days, I came away feeling recharged and inspired to fast- forward. I'm not the only one to say this: in the plane on the way back to Paris, for all the French people I spoke to coming away from the event, this feeling and the urge to move swiftly forwards were uppermost. And this wonderful propulsion into a very different near-future world continued as I found myself at the start of the new academic year attending the Microsoft Co-Sell Ready Meeting, a follow-on event during which joint initiatives for 2019-2020 were launched.